We are almost halfway to our goal of $15,000! Please consider donating today!
Thank you to our donors!
Donor List:
Mount Sinai Global Health Institute

The Virtue Foundation

Dennis Charney, MD

Arielle Rosner, LCSW

Karen Zier, PhD

Marget Magid, MD
This year will be our 7th annual community health outreach trip to Nogales, a rural community on the border between Arizona and Mexico.  Students have been preparing for the trip by learning about the community- its culture, people, available resources, daily life and health landscape; raising funds to help cover the cost of medical supplies and travel; and of course, practicing our Spanish!
We currently work with the Southeast Arizona Area Health Education Center, the Mariposa Community Health Center, and the Carondelet Health Network. We will be organizing and leading two free community health fairs while in Nogales, where all resources and services will be available in both English and Spanish. Preventative screenings and education will focus on diabetes, high blood pressure, high cholesterol, and fall prevention.
Twelve first year medical students and two Mount Sinai physicians will be traveling to Nogales this year. In addition to organizing and running the aforementioned community health fairs, we will also meet with local physicians, community health workers, community advocates, and border patrol to learn more about the complex social and economic issues that contribute to health outcomes in this area.
Our 2017 Nogales Service Team:
Click on the picture below to learn more about our team!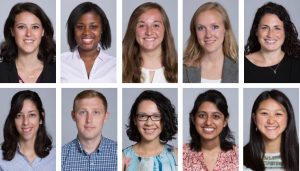 Thanks to our sponsors!