How to successfully prepare and get your grant!
Save the Date
Wednesday
August 18
12 PM-1 PM
Registration link: https://mssm.zoom.us/meeting/register/tZUudO2qrj4rGNWAFuZkTqJwDRuuflnEBrB_
Speaker: 
Laurel Morris PhD is an Assistant Professor in the Department of Psychiatry at the Icahn School of Medicine at Mount Sinai. She completed her PhD from the University of Cambridge in 2017 and then completed a 2-year post-doctoral fellowship at Mount Sinai before transitioning to Assistant Professor in late 2019. She received an NIMH K01 grant in mid 2019, which propelled her transition to Faculty level. Laurel also subsequently received a NARSAD Young Investigator Grant from the BBRF Foundation in late 2019. Since then Laurel has started her own Lab at Mount Sinai, called the Cognitive and High-resolution Imaging in Psychiatry (CHIP) Lab.
During this workshop, Dr. Morris will share her successful experience and provide insightful advice on how to effectively prepare a grant as a young investigator.
Please, join us for this exciting event!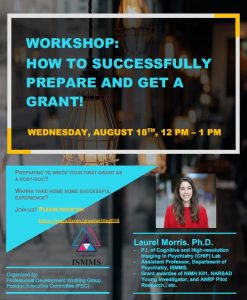 Organized by:
Professional Development Working Group
Postdoc Executive Committee (PEC)