Trainee Health and Wellness (THAW) and the Postdoc Executive Committee (PEC) present:
Summer Social
Thursday
August 26th at 6 PM 
East Meadow 
ALL STUDENTS AND POSTDOCS are welcome to join for FREE SANDWICHES AND BEVERAGES!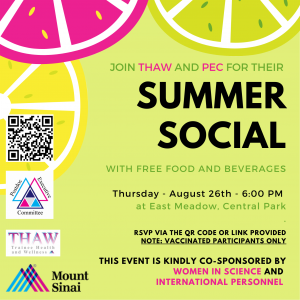 Please RSVP using the QR code or the link below by this Friday so we can be sure to order the right amount of food and drinks.
RSVP here: https://forms.gle/YU1HFXEULhDcsGWq8
See you there!
Sincerely,
THAW + PEC
(with support from the Office for Student & Postdoc Affairs, Women in Science, and the International Personnel Office)