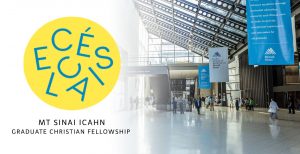 Welcome new and returning students for Fall 2022!
Weekly meetings in

Annenberg 10-30, Tuesdays 8 PM

. All are welcome!
No meeting 11/21 because of Thanksgiving.
We are also part of a local church, Ecclésia NYC. Join us for Sunday Worship: 11:30 AM, 56 West 45th Street, 2nd floor (Manhattan)
Hello there, we're so glad you decided to check us out! Whether you've been a Christian all your life or just interested in learning about Jesus this is a place for you.
Ecclésia Graduate Christian Fellowship is a student group that provides mentorship for medical, masters, and PhD students from a Christian perspective. During our weekly bible study meetings we often watch videos, have discussions about life, share our stories, enjoy refreshments, and end the evening with prayer – our meetings are about an hour. These are times for us to find out what Jesus says about our lives as students!
We are also part of local church, Ecclésia NYC. Join us for Sunday Worship:
11:30 AM, 56 West 45th Street, 2nd floor (Manhattan)