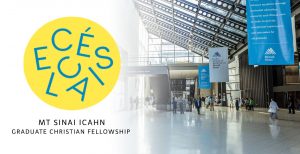 Welcome new and returning students for Spring 2023!
Weekly meetings in

Annenberg 10-30, Thursdays 8 PM. First meeting of the semester is 1/19/23

. All are welcome!
We are also part of a local church, Ecclésia NYC. Join us for Sunday Worship: 11:30 AM, 56 West 45th Street, 2nd floor (Manhattan)
Hello there, we're so glad you decided to check us out! Whether you've been a Christian all your life or just interested in learning about Jesus this is a place for you.
Ecclésia Graduate Christian Fellowship is a student group that provides mentorship for medical, masters, and PhD students from a Christian perspective. During our weekly bible study meetings we often watch videos, have discussions about life, share our stories, enjoy refreshments, and end the evening with prayer – our meetings are about an hour. These are times for us to find out what Jesus says about our lives as students!