= 2019 =
Chair: Tristan Fehr
Pronouns: he/they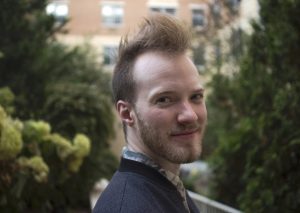 Tristan Fehr is a PhD candidate in Neuroscience at Mount Sinai. After graduating from Arizona State University with dual degrees in Biology and Psychology, Tristan accepted a Fulbright Fellowship in Spain to conduct research on adult neurogenesis. As a National Science Foundation Graduate Research Fellowship finalist, his current research focuses on long-term neurobiological effects of early life anesthesia exposures.
Outside of the lab, Tristan acts as Executive Editor for the NYC Science Communication blog, enjoys gaming, and creates a variety of digital and acoustic music.
Treasurer: Elise Ball
Pronouns: 
Social Media Coordinator:  Christopher Panebianco
Pronouns: he/him
Chris graduated from The Cooper Union for the Advancement of Science and Art in 2016 with a Bachelor of Engineering Degree in Chemical Engineering and a Minor in Biomedical Engineering.
Upon completion of his degree, Chris earned a Postbaccalaureate Intramural Research Fellowship at the National Institutes of Health; his research utilized novel tissue engineering strategies to differentiate pluripotent stem cells into neural retina organoids for drug-screening
applications. Currently, Chris is a 2nd Year Biomedical Sciences PhD Student in the Developmental and Regenerative Sciences MTA. His research uses engineering approaches to repair defects to the intervertebral disc.
Outside of research obligations, Chris serves a PhD Representative on Student Council, the Co-Chair of Stonewall at Mount Sinai and the Social Media Chair for oSTEM at Mount Sinai. He enjoys these extra-curricular connections to the Mount Sinai community, along with martial arts, yoga and cooking.
Post-doc Liaison: Zeb Vance
Pronouns: he/him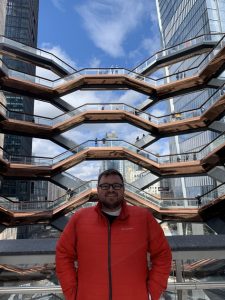 Zeb graduated from the University of Kentucky with his BS in Biosystem Engineering in 2013 before obtaining his PhD in Biomedical Engineering from the University of South Carolina in 2018. His dissertation focused on tools to modulate and manipulate amyloid-β protein aggregation. His current research uses rationally designed peptides to stimulate angiogenesis related to Alzheimer's disease.
Outside of research, Zeb enjoys watching Kentucky sports (Go Cats), Kentucky bourbon, and exploring NYC.
Secretary: Aster Q. Perkins
Pronouns: they/them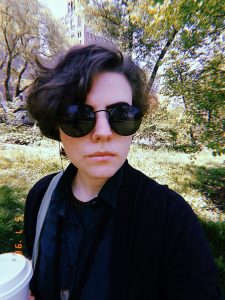 Aster graduated from the College of Agriculture and Life Sciences at Cornell University in 2016 with a Bachelor of Science in Biology. Upon completing their degree, they obtained an Intramural Postbaccalaureate Research Fellowship at the National Institute of Mental Health, where they researched the neural mechanisms of attention and executive function. Currently, they are a second year PhD student in the Neuroscience MTA.
Outside of research, they compose for the piano and write paranormal horror. They would like everyone to get their pronouns right.
Technology Specialist: Gavi Hecht
Pronouns: she/her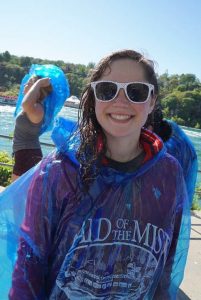 Gavi graduated from Binghamton University with a BS in Biochemistry 2016. She then worked a year and a half in an ophthalmology clinic before coming to Sinai. Gavi is currently an MPH student in Epidemiology and Biostatistics, and works full time in the department of infectious diseases on the behavioral HIV research team. She is currently working on an NIH-funded clinical trial focused on improving substance use screening amongst the HIV patient population.
Outside of school, Gavi enjoys playing guitar, cooking, and running around with her 4 dogs.
Technology Specialist: Phil Cohen
Pronouns:
Faculty Advisor: Mark Baxter, PhD