= 2020 =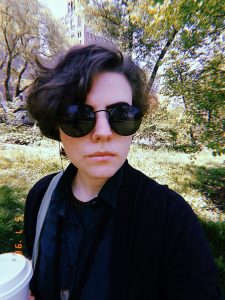 Chair: Aster Q. Perkins
Pronouns: they/them
Aster graduated largely unscathed and only a little bitter from the College of Agriculture and Life Sciences at Cornell University in 2016 with a BSc in Biology. Upon completing their degree, they obtained a post-baccalaureate fellowship at NIMH and it was alright. Currently, they are a third year PhD candidate in the Rich Lab, where they research decision-making. No word yet on why it's so difficult or how to get better at it.
Outside of research, they write paranormal horror and compose for the piano. They would like everyone to get their pronouns right.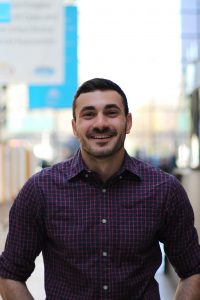 Social Media Coordinator:  Christopher Panebianco
Pronouns: he/him
Chris graduated from The Cooper Union for the Advancement of Science and Art in 2016 with a Bachelor of Engineering Degree in Chemical Engineering and a Minor in Biomedical Engineering.
Upon completion of his degree, Chris earned a Postbaccalaureate Intramural Research Fellowship at the National Institutes of Health; his research utilized novel tissue engineering strategies to differentiate pluripotent stem cells into neural retina organoids for drug-screening applications. Currently, Chris is a 4th Year Biomedical Sciences PhD Candidate in the Developmental and Regenerative Sciences MTA. His research uses engineering approaches to repair defects to the intervertebral disc.
Outside of research obligations, Chris serves as a PhD Representative on Student Council and the Social Media Chair for oSTEM at Mount Sinai. He enjoys these extra-curricular connections to the Mount Sinai community, along with martial arts, CitiBiking, yoga and cooking.
Treasurer: Kayla Townsley
Pronouns: she/her/hers
Kayla is a Neuroscience PhD student in the Huckins and Brennand Labs interested in genomic and epigenetic interactions that confer susceptibility to the development of complex psychiatric disorders. Kayla's research approaches these domains through computational genetics and downstream CRISPR-based validation in patient stem cells. 
She completed her undergraduate at Portland State University in Molecular Biology, with minors in Chemistry and Art. Before arriving at Sinai, she worked as a research assistant in the Ozburn Lab at Oregon Health and Science University (OHSU) studying the molecular underpinnings of Alcohol Use Disorders and the role of circadian rhythms in addiction. 
Outside the lab, Kayla spends her time organizing in her communities and working to make STEAM fields pro-Queer and pro-BIPOC. Otherwise you can find her painting, reading intersectional feminist and marxist theory, or running the daily stressors away.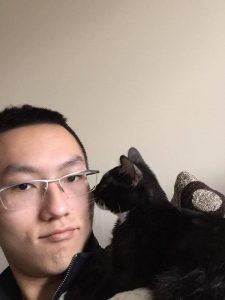 Technology Specialist: Zelong Liu
Pronouns: he/him/his
Zelong comes from China, and is a second-year Master Student (MSBS program). He graduated from Vanderbilt University in 2019 and got the Bachelor degree of Biological Science and German. 
At Sinai, Zelong joined Dr. Stuart Aaronson's lab to study the role of TEAD4 transcription factor in Hippo pathway. His research studied the expression pattern of TEAD4 in different glioma cell lines and discovered the effect of dominant-negative TEAD4. 
Outside the lab,  Zelong spends time on being a Crisis Counselor at Crisis Text Line and runs the social media of Mount Sinai oSTEM. He also likes video games, food and Bilibili.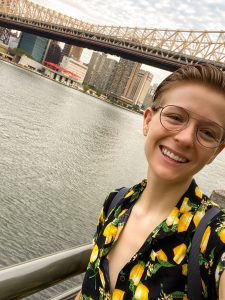 First Year Liason: Ryn Cuddleston
Pronouns: they/them
Ryn completed undergraduate at the University of Nevada, Reno in 2018 with a Neuroscience major and a minor in Biochemistry. They earned a Master of Science degree in Cellular and Molecular Biology from University of Nevada, Reno in 2020 studying coordinated programs of posttranscriptional gene regulation in the central nervous system.
Ryn is now a first year PhD student in the Biomedical Sciences program specializing in Genetics and Data Science. They are interested in using functional genomic analyses to research disorders of neurological development. They want to dissect these disorders from identifying genetic elements involved to understanding the mechanism by which they result in pathological state with the ultimate goal of leveraging this knowledge to target therapeutics.
When they're not in the lab, Ryn enjoys spending their weekend long distance running, camping, hiking, indoor rock climbing, cooking, and writing short stories. At the end of a long day though, the most likely place to find them is on the couch with their wife and two cats, bingeing another Netflix series.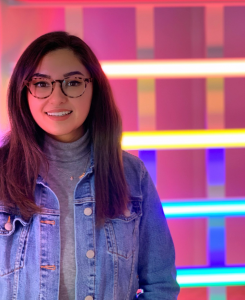 Membership Coordinator
: Aleta Murphy
Pronouns
: she/her
Aleta is a second year Master's in Biomedical Science (MSBS) student in the Brennand Lab. Her project is about understanding the impact of novel splice isoforms of NRXN1a, using a stem cell-derived brain organoid model of neuropsychiatric disease.She completed her B.A. in 2017 from Rutgers University, majoring in Psychology and Cell Biology & Neuroscience, and minoring in Art History. Afterwards, she worked as a laboratory technician in the Dept. of Neurology at Robert Wood Johnson Medical School.Outside of the lab, Aleta is passionate about developmental disability advocacy and volunteer work. She enjoys visiting art museums, reading mystery novels, and consuming lots of bubble tea.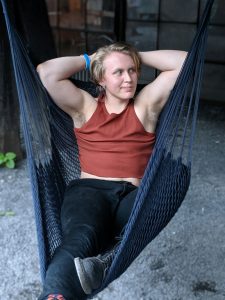 Secretary: Sam McConnell
Pronouns: they/he
Sam graduated from Grinnell College in 2017, escaping the depths of the Iowa cornfields. While paying off student loans and generally trying to figure out their life, they worked as a lab technician in Linda McLoon's lab at the University of Minnesota for a year before moving to the east coast for a postbac in George Koob's lab at the National Institute on Drug Abuse. He is now a first year Neuroscience PhD student, interested in studying the neurobiological basis of behavior, particularly in the context of reward and motivation.
When he's not doing research, he bakes a lot of sourdough, thinks wistful thoughts about pre-covid climbing gyms, and adores his cat Peter. They're also slowly exploring NYC and amassing a respectable houseplant collection.
Faculty Advisor: Mark Baxter, PhD