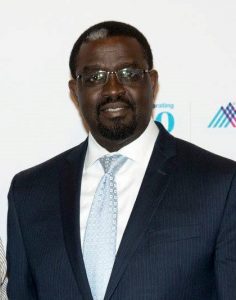 Dr. Ayotunde Dokun is a distinguished alumnus of the MSTP program at Mount Sinai and the winner of the 2018 Terry Ann Krulwich Physician-Scientist Alumni Award. He attended this year's MSTP retreat at Honor's Haven where he was the Keynote speaker. We were lucky to hear him speak about his career, and for this feature in the newsletter, I was able to delve deeper and learn more about his time at Sinai and beyond.
Dr. Dokun was born in Nigeria and moved to the U.S. at age 18. Once here he attended Bronx Community College where he first became involved in research through a position that began with washing glassware for a lab. He found the science fascinating and soon began working on experiments. From there he moved on to SUNY Long Island where his research career continued. But, Dr. Dokun says, "It was during my time in the MSTP program that I learned how to be a scientist." He goes on to explain this further, "I did not just work on a project; I learned how to be a scientist. This has helped me pursue my research interest, without being limited to my area of prior training."
During his time at Sinai, Dr. Dokun was also busy starting a family and enjoying life in New York. He recalls some of his favorite memories at Sinai as playing soccer in Central Park and Friday night sushi dinners with fellow MSTP and graduate students.
After graduating from the MSTP program in 2003, Dr. Dokun went on to a residency in Internal Medicine and a fellowship in Endocrinology and Metabolism at Duke University. Throughout all this time, he credits his faith and desire to help as many people as possible as motivation to continue working in medicine and science.
Even now, Dr. Dokun continues to work in both fields as an Associate Professor and Attending Physician in Medicine and Endocrinology at the University of Tennessee Health Science Center. He spends 30% of his time seeing patients, 10% teaching, and 10% on administrative roles. The other 50% of his time is spent on his research, which focuses on peripheral artery disease and the mechanisms of worsened outcomes in patients with diabetes. For him, the future of science is very promising, particularly the biomedical sciences, which he believes are "on the brink of incredible discoveries that will transform how medicine is practiced."
Looking back on his career so far, Dr. Dokun comments, "One of the most surprising things for me is that I made it this far and have the opportunity to go further!" He left me with a piece of advice important for all of us in the program: that we should not let others define what success means to us. Dr. Dokun is one example of a great physician-scientist career, but we will all have different paths and should not let others define these and our successes for us.