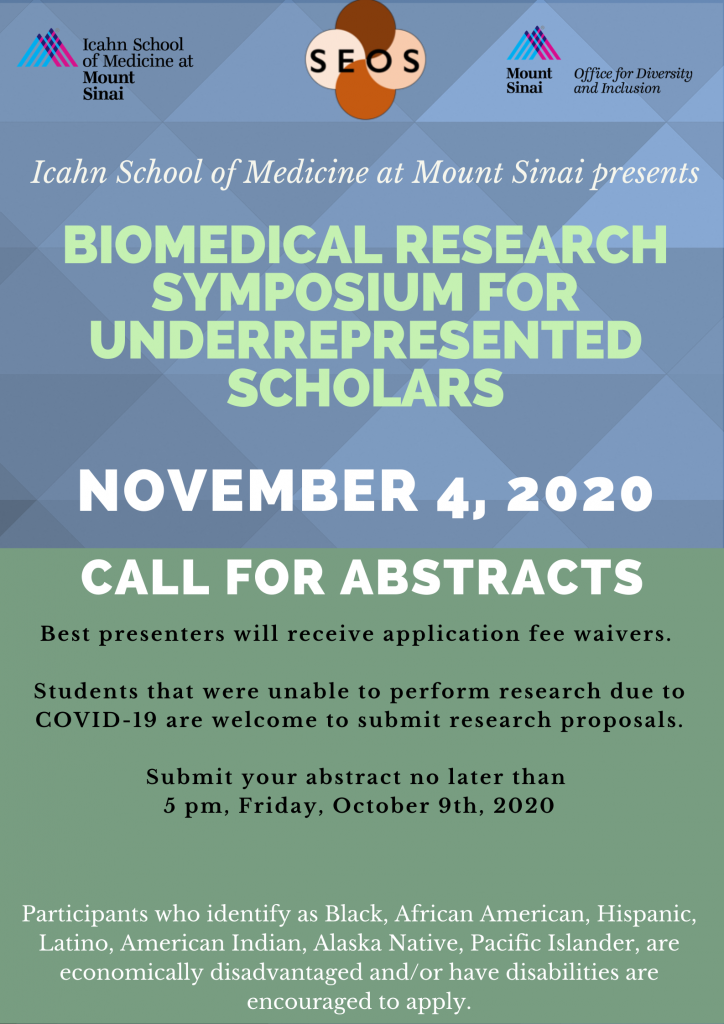 Mount Sinai's Biomedical Research Symposium aims to support and enhance the representation of 
underrepresented minority (URM)
 scholars within biomedical research careers. Participants will be introduced to the various research programs at Mount Sinai and will be exposed to research projects conducted at Mount Sinai. Participants will have the opportunity to interact and build meanfuling connections with faculty and students and gain the community they need to thrive. This symposium is open to undergraduates and Master's students, as well as PREP scholars, technicians, research associates and non-traditional students from underrepresented backgrounds.
This event is FREE for those who register.
Given some students were unable to conduct research during the summer due to COVID-19, we are providing the opportunity to present a research proposal instead of original research, if needed.
Advantages of participating in our symposium include:
The opportunity to present your research to a broader audience and a chance to receive an application fee waiver for the 2020-2021 application cycle

An opportunity to receive feedback and practice your presentation ahead of ABRCMS

Learn more about the science conducted by your peers

Utilize the resources at Mount Sinai, such as student and faculty mentorship, to prepare yourself for the application process. 

Network with faculty and students to build long-lasting relationships that can support you through the application process and beyond
Tentative schedule for the 2020 Virtual Biomedical Research Symposium for Underrepresented Scholars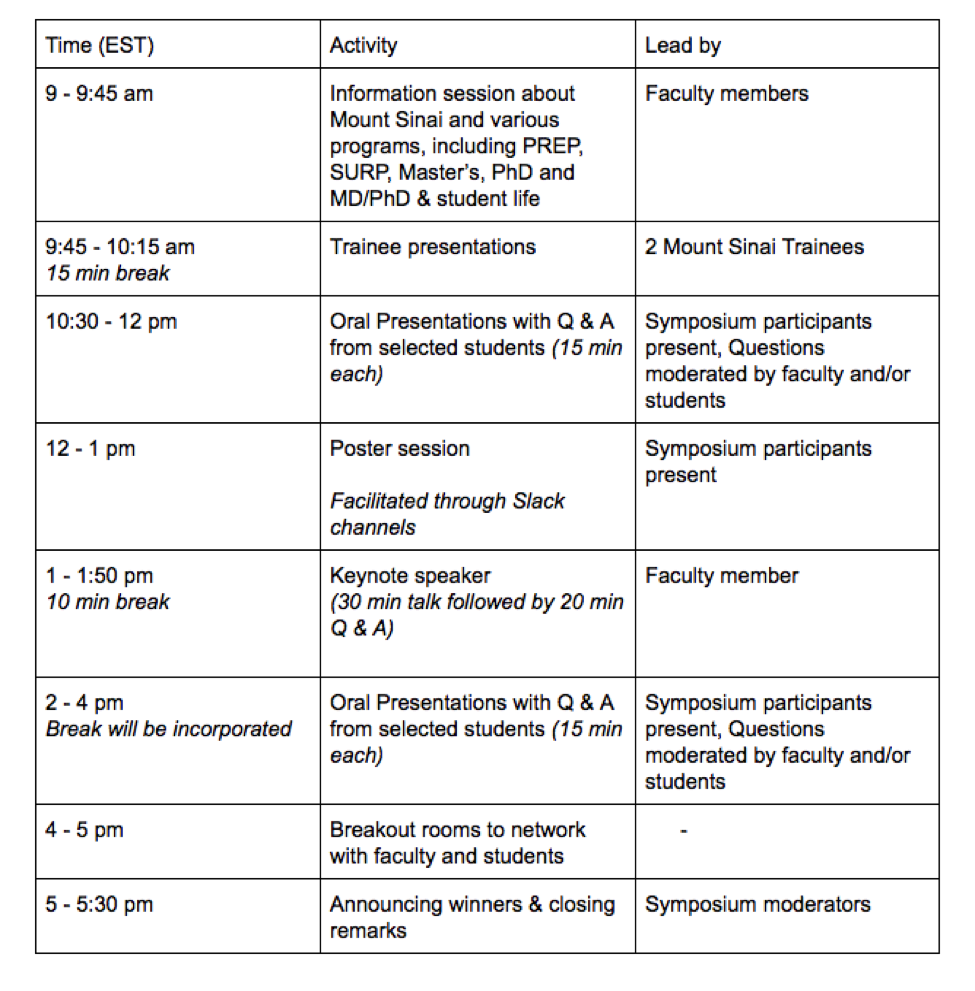 All abstracts should be no more than 350 words (not including affiliations) and should include the following elements: Title, Authors, Affiliations, Background, Methods, Results and Conclusions.
Indicate whether you prefer to give an oral presentation or present a poster. Students selected for oral presentations will receive an application fee waiver for the 2020-2021 application cycle.
Please submit your abstract no later than October 9, 2020 by 5:00 PM
Code of Conduct:
We are committed to providing an environment that promotes exchange of scientific ideas, encourages scientific inquiry and creates productive ways to provide feedback in a respectful and mindful manner. We seek to bring individuals with diverse backgrounds to this symposium to facilitate fruitful discussions and promote professional relationships between students and faculty. We do not tolerate harassment and bullying of any kind at our event. We expect all participants to treat each other with respect regardless of race, color, religion, sex, national origin, citizenship status, sexual orientation, gender identity or expression, age, disability, marital status, veteran status, genetic information, or any other criteria prohibited under applicable federal, state or local law. 
Contact information: S.E.O.S./ seos.sinai@gmail.com / Subject Line BSR2020