February 2023
Galentine's Day Celebration!
Michelle Tran, MP3
All women in the MSTP program were invited to our Galentine's Day celebration to catch up and enjoy sweet treats in the student lounge!
December 2022
Annual Holiday Dinner
Michelle Tran, MP3
Students and faculty gathered to mingle and celebrate the holidays! We ate pasta from Lexington Pizza Parlor, and Dr. Filizola made a delicious tiramisu! It was lovely seeing everyone!
November 2022
Coffee and Chat with Dr. Gallagher
Michelle Tran, MP3
July 2022
Welcome Picnic in Central Park for MS1s!
Michelle Tran, MP3
We were so excited to welcome entering MS1s during their orientation week! Current students joined them for an early burrito dinner in Central Park! We were having so much fun that we forgot to take a photo!
April 2022
Picnic in Central Park celebrating graduates!
Michelle Tran, MP3
We gathered in Central Park to celebrate all our graduating MS4's and send them off to stellar residency programs across the country! We are so proud of all of you!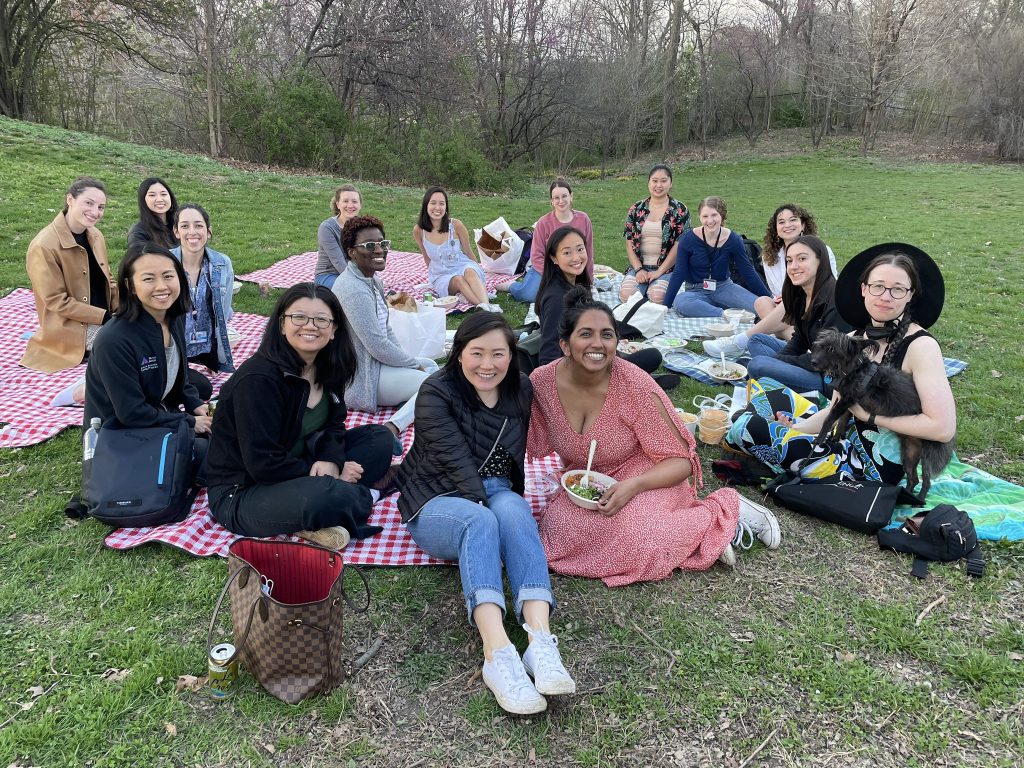 September 2021
Coffee and Chats with Dr. Uraina Clark
Joy Jiang, MS2
We had the opportunity to get to know our new Associate Co-Director of our MSTP. We were inspired by her commitment to addressing racism and discrimination through her research and hospital leadership. We are excited to welcome Dr. Clark to our MSTPhamily and look forward to having her mentorship and guidance!
August 2021
WiMSTP MS1 Welcome Picnic
Joy Jiang, MS2
To welcome first-year MSTP students to Mount Sinai, WiMSTP hosted a happy hour and picnic outdoors in Central Park. We had a wonderful time catching up and enjoyed an incredible splay of cheese, crackers, fruit, hummus, and wine.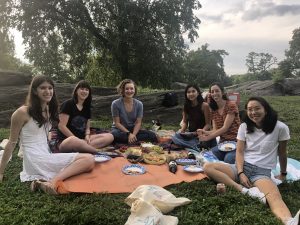 March 2021
Murder Mystery Virtual Party
Amara Jennings-Plaza, MP3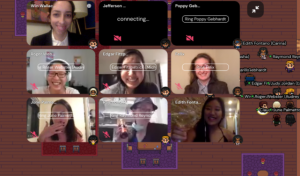 Women in MSTP hosted a virtual murder mystery party on March 11th! It was a Jazz Age themed party where the owner of a jazz club, Felix Fontano, was murdered and we had to investigate to figure out who did it. In the end it was discovered that Edgar Fitzpatrick, played by WiMSTP's very own Michelle Tran, had murdered him in a fit of rage when they argued over Felix threatening to pull his funding from Edgar's new Broadway production. It was a very fun night filled with mystery and intrigue. Attendees were able to order dinner courtesy of UberEats gift cards and were given mini champagne bottles to toast the evening.

Girls in Science and Engineering Day
Audrey Lee and Joy Jiang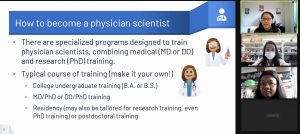 On March 6, members of WiMSTP joined the Intrepid Sea, Air & Space Museum for their annual Girls in Science & Engineering Day. WiMSTP, along with several science-based organizations, discussed a variety of topics about the biomedical world. The event began with live conversation with molecular biologist and science communicator Raven Baxter, followed by various special sessions. WiMSTP additionally hosted a special session at GSED about the science behind vaccines as well as careers in medicine and biomedical research. We are proud to support and provide mentorship to female students, no matter their stage of training!
January 2021
Winter Social Hour

Some attendees at our Winter Social Hour 🙂
Joy Jiang, MS1
Women in MSTP hosted a Zoom social hour on Thursday, January 14, 2021 at 7 pm! Attendees congregated to discuss topics surrounding women in science, particularly as it pertains to challenges imposed by the COVID-19 pandemic, and met other community members interested in these issues. We discussed of possible action items to address challenges created by the COVID-19 pandemic, especially for women and people of color.
See the following latest press releases that inspired conversation that evening:
Coffee and Chats with Miriam Udler, MD/PhD

Joy Jiang, MS1
WiMSTP were elated to speak with Dr. Miriam Udler, Director of the MGH Diabetes Genetics Clinic and an attending in the MGH Endocrine Tumor Genetics Clinic.
December 2020
Book Club Discusses
Inferior
by Angela Saini

Book Club leaders (L-R) Joy Jiang, Ali Mills, Michelle Tran
Joy Jiang, MS1
WiMSTP convened a book club to discuss Inferior: How Science Got Women Wrong and the New Research That's Rewriting the Story by Angela Saini. Saini scrutinizes studies and opinions from prominent scientists that have relegated women as the weaker and less competent sex. She then takes readers on discussion of data from anthropology, comparative biology, genetics, physiology, and psychology that demonstrate a different depiction of female intelligence and strength.
Inferior was recognized as Physics World "Book of the Year" for 2017, a finalist in the Goodreads Choice Awards for "Best Science and Technology", and recommended by Scientific American. On Thursday and Sunday evenings from October to December, Joy Jiang, Ali Mills, Jessica Tan, and Michelle Tran led conversation and critique among Master's, MD/PhD, and PhD students as well as alumni about key themes and applications of this book.
November 2020
Members Volunteer at 2020 GAINS Conference
Joy Jiang, MS1
WiMSTP assisted at the 2020 GAINS Conference on November 19, 2020, an event geared towards highlighting high school girls' interest in STEM topics. We were proud to represent ISMMS in volunteering at this program!
October 2020
Coffee & Chat with Alumnus Dr. Noura Abul-Husn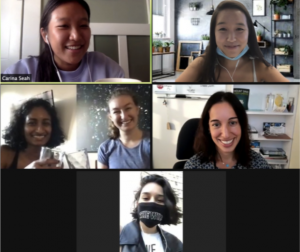 WiMSTP conclude their conversation with Dr. Abul-Husn
Michelle Tran, MP1
On October 15, 2020, WiMSTP had an inspirational Coffee and Chat session with Dr. Noura Abul-Husn, M.D., Ph.D. and Associate Professor of Medicine and of Genetics and Genomic Sciences! She shared her insights about leveraging her MD/PhD training to carve her own career path at Mount Sinai. She shared her story of how she founded the relatively new Division of Genomic Medicine in the Department of Medicine and the innovative projects and collaborations they are working on. The students who attended left invigorated and inspired to explore fields during their training with an open mind to discover and nurture their own research and/or clinical niche!