MSTP Mixer: Thursday, August 3, 2017
An opportunity for all of the students in the MSTP at ISMMS to gather and meet the new members of our MSTPhamily.
Summer potluck: August 2017
Lunch with Miriam Merad, MD, PhD: Tuesday, August 29, 2017
Miriam Merad, M.D. Ph.D. is a Professor of Oncological Science, Medicine (Hem/Onc division) and Immunology, the Director of the Immunology Institute, and a member The Tisch Cancer Institute at the Mount Sinai School of Medicine in New York.
Social Hour: Imposter Syndrome
Wednesday, July 26, 2017
Articles for discussion:
Letter to a Young Female Physician
Seven Ways I've Learned from Other Women to Fight Imposter Syndrome
Social Hour: Male Feminist Allies
Monday, April 26th, 2017 
Articles for discussion:
Allies against Sexism: The Role of Men in Confronting Sexism
Social Hour with IcahnBeWell: Wellness with Dr. Stephanie Marango
Wednesday, March 22, 2017
Dr. Marango is an alumna of Mount Sinai. She is a healthcare provider focused on holistic preventive medicine and is a yoga instructor.
Negotiating Skills Workshop
Monday, March 13, 2017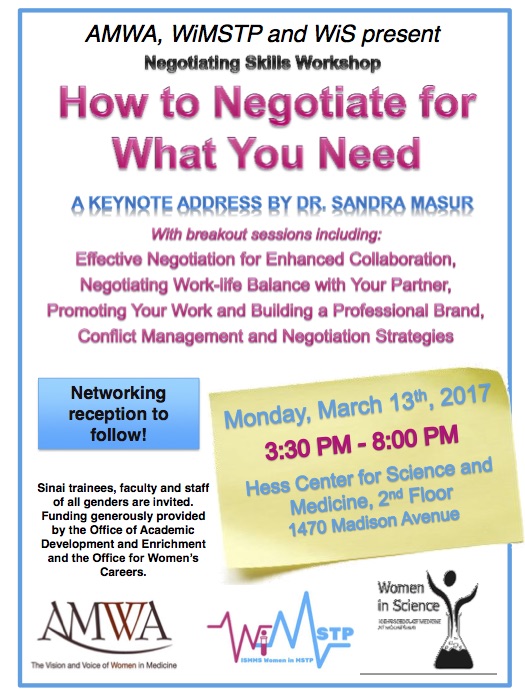 Social Hour: Sexual Harassment in Academia
Thursday, February 23, 2017
Articles for discussion:
Social Hour: Internalized Misogyny and Tools for Intersectional Feminism
Wednesday, February 1, 2017
Articles for discussion:
White House women want to be in the room where it happens
Women's March on Washington Opens Contentious Dialogues About Race
Student Social Hours – Fall 2016
Organized by WiMSTP and Women in Science (WiS)
Topics: gender disparity in scientific meeting speakers, gender bias in publishing, and sexual harassment in STEM
Lunch with a Physician-Scientist – September 13, 2016
Organized by WiMSTP
Student lunch with Miriam Merad, MD, PhD
Negotiating Skills Workshop – February 29, 2016