Postdoc Peer Mentorship is currently on hiatus and looking for new leaders! The below information is no longer up to date. If you are interested in building a network of postdoc mentors and mentees, or collaborating with our graduate student peer mentorship programs, please email us at thaw@icahn.mssm.edu!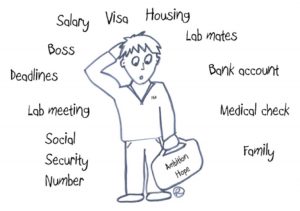 The postdoc experience is a complicated one, even without taking into account the vagaries of scientific research. Postdoc Peer Mentoring provides an informal setting (one-on-one, with options for social activities) where postdocs can benefit from the experiences of others who are just a step or two further along in the process. We are seeking to build a community of mentors and mentees at various stages of their postdoctoral training who can share their experiences and challenges one-on-one with peers, in an effort to address and prevent feelings of isolation and being overwhelmed.
What is it?
Exactly what it sounds like – postdocs mentoring other postdocs. It is intended to be one-on-one mentoring between postdocs at various stages of their postdoc, offering help and advice on anything associated with our postdoc experience. Some of the things we think folks might like advice on include housing in New York, childcare, concerns about labmates or PIs, navigating banking, making friends, finding interest groups, finding grocery stores, renewing visas…
How does it work?
Postdocs who are willing to be mentors generate a profile that the organizers compile and share with interested mentees. Mentees find a mentor whose profile addresses their interests or concerns, and we put mentee and mentor in touch to meet up for the first time. After that, it's up to mentee/mentor how to proceed; we are always available to answer questions or deal with any concerns. In addition, through social activities, we hope to build a community where mentors who don't have expertise in one area can connect their mentee with a mentor who does have knowledge of that issue.
Who does what?
As a postdoc, you can be a mentee, a mentor, or both; you can mentor multiple people, and likewise can have more than one mentor, although we hope that no one person takes on too much. We are also seeking postdocs to mentor senior graduate students, although this mentorship is likely to have more of a career/scientific bent than the peer mentorship. If you are interested in becoming an organizer, we invite you to contact us below.
If you have any questions about postdoc peer mentorship, please contact us HERE!