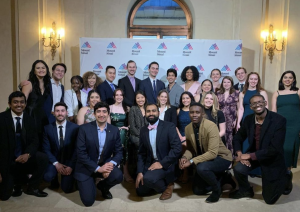 The ISMMS Student Council aims to represent the student body's perspectives on all aspects of student life and effect positive changes by working with the school administration.
How do I raise an issue? Email your favorite rep, tweet @sinaistudents, or email Student Council!
Can I make anonymous suggestions? Yes, we have a form for that!
Do you have any student or group you want highlighted on social media? Submit them here!
Meeting Schedule
We have 8 meetings throughout the year.  They are open to the entire student body – all are welcome!  All meetings are the 2nd Wed of the month (excluding September because of elections) from 7:00-8:00 PM in Annenberg 5-205 (5th floor, room 205). Dinner will be provided and the meetings will be hybrid for those not in the area. Zoom link will be shared via email.
This year's meeting dates are as follows.
Class, program, and committee reps: If you are planning to miss a scheduled meeting, please report your absence here beforehand to maintain your eligibility to vote for steering positions in April.
Steering Committee 2023-2024
You can contact the entire steering committee by emailing studentc@icahn.mssm.edu.
President: Ava Adler
Vice Presidents: Abhi Mogili, Nesteene Param
Treasurers: Brittany Sacks, Tirth Patel
Secretaries: Maisy Meyers, Sophia Gamboa
URiSM Reps: Kaila Helm, Bryan Tricoche
PhD Rep: Ana Forton-Juarez
Masters Rep: Yukti Desai
MD/PhD Rep: TBD
MD Y1 Rep: TBD