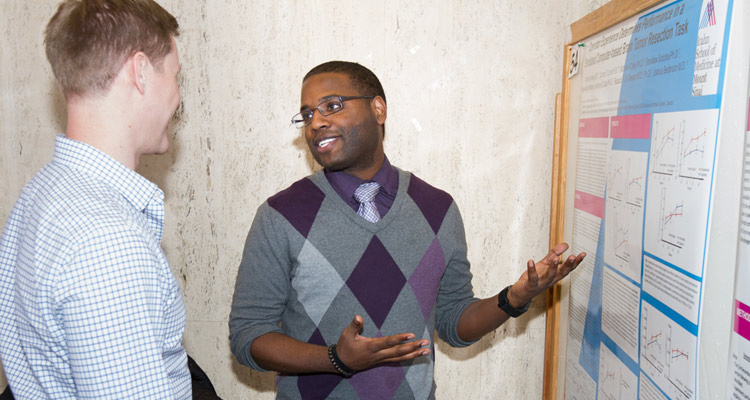 COVID-19 Policy Updates:
1) Students no longer need to fill out the Travel Registration Form.
2) Subsidies for publishing manuscripts will now fall under Tier 0 funding for "professional development," which has a cap of $300. These are the following criteria in order to be eligible:
Student must be first author on the publication.

Student must seek out other funding sources through their mentor's department (i.e. MSRO and mentor department funds) first.

Students must explain why they chose that specific journal over other options, including those with reduced submission fees.
Notice: You can find the most up-to-date policies, guidelines, and information on Infection Prevention's COVID-19 Blackboard page.
Last updated: 04/21/2022
---
Funding Options:
Medical Student Research Office (MSRO): MD & MD/PhD students who are presenting first-author work are also eligible for up to 50% of eligible expenses (capped at $500) per year. You mentor is expected, but not required, to provide matching funds. MD/PhD students are only eligible to receive funding for projects begun or completed during their MD years that is unrelated to their PhD. You can read the full MSRO funding policy HERE and apply for funding HERE.
Mentors: All students, regardless of their program, should speak with their mentors, advisors, and departments to see if funding is available to help cover conference costs.
Student Council: MD & MD/PhD students are eligible to receive funding for professional memberships and conferences. You do not need to be presenting research at a conference to receive this funding. However, Student Council funding should be a considered a last resort, and you are encouraged to apply for MSRO funding (if eligible) and mentor/department funding first. This funding comes from the Department of Medical Education so it is only available to MD & MD/PhD students. MD/PhD students are only eligible during their PhD years if the conference is unrelated to their PhD research. Students with Scholarly Year status, but not Extended Scholarly status, are also eligible for this funding.
StuCo Funding Policies:
MD and MD/PhD students are eligible to receive funding for ONE conference that qualifies as Tiers 1-3 per academic year (ie, from Sept 1st of the current year to Aug 31st of the following year) as determined by the date of membership purchase or the date of conference attendance. In addition to a Tier 1-3 conference, students can receive funding for a Tier 0 professional development (<$300) or a low-cost conference (<$100) per academic year. Tier 0 professional development includes professional memberships, poster printing, courses/workshops. (Please reach out if you have a professional development endeavor that is not listed here and may qualify for Tier 0 funding.) Instead of a Tier 1-3 conference, students could alternatively receive up to two Tier 0 awards. No student may receive more than $900 in a maximum of 2 total StuCo Conference Funding awards in a given academic year. All requests for funding must be reviewed and approved by the Student Council Treasurers and MedEd Finance.
Students may attend conferences in the U.S. and abroad, but no funding will be provided for conferences deemed predatory or illegitimate. Please check Beall's, PubsHub, and Think Check Attend for guidance on how to distinguish predatory conferences from legitimate ones.
Maximum funding is determined using a tiered system outlined in the document below:
Conference Funding Tiers (IMPORTANT – please read):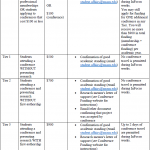 Per this document, a student may receive up to two awards in a given year, consisting of either two Tier 0 awards OR one Tier 0 award + one Tiers 1-3 award.
Please be aware that all conference funding is subject to final approval by Medical Education and that approval from Student Council does not guarantee receipt of funds. Funding is only guaranteed after receipt of an email from Medical Education asking you to approve your travel request in Sinai Central.
Applying for StuCo Funding:
Before Your Conference:
Mentor's Letter of Support:
If you are applying for Tier 2 or Tier 3 funding, you will need a letter of support from the principal investigator of the project you are presenting. They do not have to be an ISMMS faculty member. The letter must contain the following information:
Confirmation that the student is presenting research at the conference, either in poster or slide format.
Confirmation that the conference is legitimate and will be important for the student's professional development.
Explanation of the mentor's relationship to the student.
Indication of how much, if any, funding is being provided from the mentor's or department's budget.
Confirmation of the authorship order of the project being presented.
If applying for Tier 3 funding: confirmation that the student is first author on the project and can claim this authorship position on any future documentation (ex. resume, CV, job applications).
Signature (hand-written or electronic) and date.
If possible, letter should have official department/institutional letterhead.
Advance Funding:
It is possible for Medical Education to advance funding for various conference-related expenses such as hotel rooms or air travel. However, Medical Education cannot pay directly for items related to conferences other than conference registration fees, if payable by check or wire transfer. This applies to all travel related funding –  from Student Council and MSRO. If you wish to receive a travel advance, you must reach out at least four weeks in advance to student.treasurer@icahn.mssm.edu and within 24 hours of submitting your travel request.
To receive advance funding, email the following to student.treasurer@icahn.mssm.edu, at least four weeks in advance and within 24 hours of submitting your travel request:
Travel dates – include airline quotes.
Estimated expenses  – food, ground transportation, misc.
If you have already made purchases toward your travel expenses – a copy of the credit card statement with expenses circled. Your name and the last four digits of the card should appear on the statement (all information on the statement can be blocked out).
Items charged to someone else's credit card (parents or spouse) must be accompanied by a letter of explanation.
Splitting Costs:
If you plan to share a hotel room or other large expense, please note this in the appropriate area in the Student Council Application and include both your individual share of the expense as well as the total expense. Unfortunately, Medical Education cannot process Venmo receipts so you should either ask if the hotel/vendor can officially split the charge between every individual or, if not, one individual must front the entire charge. Please note in the application what you plan to do so your reimbursement can be processed appropriately. 
If one individual plans to front the entire charge, they will be approved for additional funds and the other individuals splitting the cost will have their portion of the total deducted from their approved amount. As these can be large expenses for one individual, please remember that you can also have Medical Education provide advance funding (see "Advance Funding") if you request it at least four weeks in advance.
After Your Conference:
Regardless of funding source or advance funding, you must fill out the Travel Itemization Form and submit receipts to MedEd Finance (mededfinance@mssm.edu) within two weeks of returning from the conference. Importantly, this applies to all receipts, regardless of what funding source is paying for them. It will generally take about 3-4 weeks for receipts to be processed, although this may vary depending on the volume of requests being processed. Submit the following:
Travel tickets (including boarding passes, if relevant).
Original receipts for hotel, food, taxi, and registration.
For items charged to a credit card, submit a copy of the credit card statement with those expenses circled. Your name should appear on the credit card statement (all information on the statement other than name and last 4 digits of card number can be blocked out).
Items charged to someone else's credit card (parents or spouse), a letter of explanation must accompany the credit card statement.
Further Questions:
Email student.treasurer@icahn.mssm.edu with any and all questions. It is always better to address questions before money has been spent than afterwards.
Quick Links: