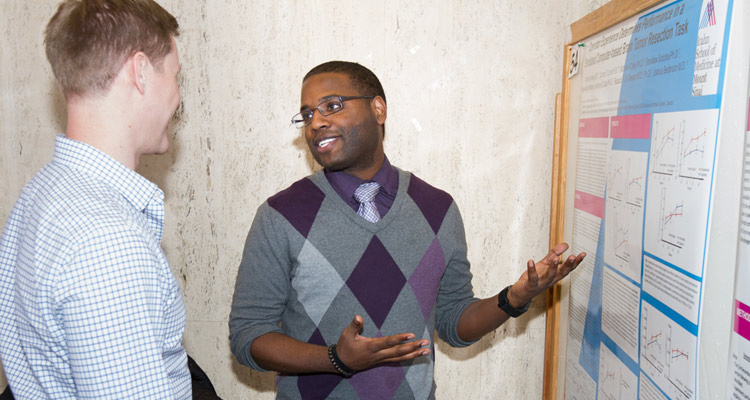 Funding Options:
I want to attend a conference – what funding is available to me?
Student Council: Every MD & MD/PhD student is eligible to receive a maximum of $450 per semester to attend conferences. You do not need to be presenting to receive this funding. This money comes from Medical Education so it is only available to MD & MD/PhD students. MD/PhD students are only eligible during their PhD years if the conference is unrelated to their PhD research. Students with Scholarly Year status are eligible for this funding.
Medical Student Research Office (MSRO): MD & MD/PhD students who are presenting first-author work are also eligible for up to $500, or 50 percent of eligible expenses, per year. This does not require matching funds from a mentor, only a letter stating they cannot support you. Again, this funding is only available to MD & MD/PhD students. MD/PhD students are only eligible to receive funding for projects begun or completed during their MD years that is unrelated to their PhD.
Mentors: All students, regardless of their program, should speak with their mentors, advisors, and departments to see if funding is available to help cover conference costs.
High-Yield Information:
Before Your Conference:
Ok, how do I actually get this funding?
Apply Early. To maximize your reimbursement, you should apply for MSRO and Student Council funding at least five weeks before the conference. While it is still possible to receive funds for requests submitted at least two weeks before the conference, you might receive less funding than if you had applied earlier. This is particularly important for the Student Council funding as only $4,500 can be spent on each conference and initial funding decisions will be made five weeks prior to a conference.
Before doing anything, email Student Affairs to confirm you are in good academic standing.
If you are presenting your own research, apply for MSRO funding prior to Student Council funding.
Fill out the Student Council Application. 
This is a large charge – can Medical Education front some of the money?
Yes! It is possible for Medical Education to advance money for various expenses that are part of a conference. For example, it is possible for MedEd to advance funding for a hotel room or air travel. However, MedEd cannot pay directly for items related to conference travel other than conference registration fees. The earlier you reach out to
student.treasurer@icahn.mssm.edu
, the more likely it is that this can be successfully arranged. This is possible for both Student Council and MSRO funding. 
At a minimum, you should reach out four weeks in advance. 
However, keep in mind, that prices may change so the earlier you reach out, the better.
Take a screenshot/picture of the order and price.
Send this screenshot/picture, along with the link, to student.treasurer@icahn.mssm.edu at least four weeks in advance of the event.
The advancement will then be processed.
How do we submit information about hotels and other large split costs?
If you plan to share a hotel room or other large expense, please note this in the appropriate area in the Student Council Application and include both your individual share of the expense as well as the total expense. Unfortunately, MedEd cannot process Venmo receipts so you should either ask if the hotel/vendor can officially split the charge between every individual or, if not, one individual must front the entire charge. Please note in the application what you plan to do so your reimbursement can be processed appropriately. 
If one individual plans to front the entire charge, they will be approved for more than $450 and the other individuals splitting the cost will have their portion of the total deducted from their approved amount. As these can be large expenses for one individual, please remember that you can also have MedEd front the funding though you need to apply more than four weeks in advance of the conference.
If you have any questions, please email student.treasurer@icahn.mssm.edu.
After Your Conference:
I had a great time – now what do I need to do?
Regardless of funding source, you must fill out the Travel Itemization Form and submit receipts to Jacklyn Njegric in Annenberg 13-30 within two weeks of returning from the conference. Importantly, this applies to all receipts, regardless of what funding source is paying for them. It will take about three-four weeks for receipts to be processed. In addition to the reimbursement form, please submit:
Travel tickets (including boarding passes, if relevant).
Original receipts for hotel, food, taxi, and registration.
For items charged to a credit card, submit a copy of the credit card statement with those expenses circled. Your name should appear on the credit card statement (all information on the statement other than name and last 4 digits of card number can be blocked out).
Items charged to someone else's credit card (parents or spouse), a letter of explanation must accompany the credit card statement.
I'm Confused:
Can I just talk to someone?
Yes – email student.treasurer@icahn.mssm.edu with any and all questions. It is always better to address questions before money has been spent than afterwards.
Is it possible to use conference funding for other professional development activities/fees?
Yes — email student.treasurer@icahn.mssm.edu with specific questions/situations.