Student organizations that are officially recognized by Student Council may apply each year for funding from Student Council. Budgets for student groups approved by Student Council are funded by the Student Activities fee that is included in tuition for medical students and a corresponding contribution from the Graduate School. As such, this funding is to support activities among medical and graduate students at the Icahn School of Medicine at Mount Sinai.
A full list of student organizations recognized by Student Council can be found HERE.
COVID 19 Update – PLEASE READ:
Due to the COVID-19 pandemic, we are allowing student groups to spend baseline funding like flexible funding until June 30th, 2020. Please see below for an explanation of the difference between baseline and flexible funding. All other funding policies remain the same.
Student groups now have the option of donating funds to the COVID Student Taskforce. If your group is interested in participating, please fill out this form.
Budget and Funding Policies:
Applying for Student Group Funding
If your organization has previously been recognized by Student Council, it must submit an annual budget that will be considered by the treasurers. All student groups must apply every year to be recognized by Student Council and for funding using this form.
Checking your Group's Remaining Funding
You can check the funding level of your group HERE. If this doesn't answer your question, please email student.treasurer@icahn.mssm.edu.
Funding Policies
All student group budgets start on September 1st and run for a full year. All funding requests should adhere to current policies, which can be downloaded here.  Please keep in mind that these policies are intended as a floor, not a ceiling, and that we want to help student groups spend funding in new and creative ways. These same guidelines apply to funding for Student Council program representatives. The policies are: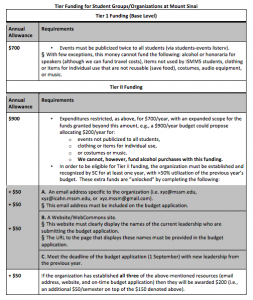 Also note the following:
Only purchases for events held in the current fiscal year (i.e. from Sept. 1st, 2019 to Aug. 31st, 2020) can be reimbursed from the current year's budget. Any events held after Aug. 31st, 2020 must be reimbursed from next year's budget, NOT the 2019-2020 budget. This rule applies to all spending, regardless of the date you purchase your items, the date you apply for reimbursement, or the date you receive reimbursement from MedEd.
Budgets do not roll over from year to year.
Sales tax is not reimbursable. Please show the Mount Sinai Tax Exempt Form to any vendors you intend to purchase items from.
Gift cards and gift certificates are not reimbursable.
Venmo cannot be accepted as a receipt.
Purchases related to travel expenses are subject to additional rules. Email student.treasurer@icahn.mssm.edu prior to making these purchases so that we can ensure they are reimbursable.
If you ever have any questions about whether a purchase is refundable, reach out to student.treasurer@icahn.mssm.edu prior to making the purchase so you don't end up out of money.
Pre-Approved Vendors:
It is possible for Medical Education to pay certain vendors in advance of events. This means that students can avoid having large charges on their credit cards or bank statements while waiting for reimbursements. However, this requires submitting an invoice/quote at least two weeks in advance of the event. If you are purchasing:
Supplies: Almost anything that can be ordered through Office Depot, Amazon, or Fresh Direct can be purchased ahead of time.
Food: We have an agreement with certain restaurants in the neighborhood whereby food can be purchased ahead of time.
Reimbursements:
If you do not have enough advance time or there is another extenuating circumstance, you can always make the purchase directly and then submit for a reimbursement. Please note that only medical or graduate students can be reimbursed for expenses paid to vendors with itemized receipts. If you are seeking a reimbursement:
Prior to Making a Purchase:
After Making a Purchase:
Prospective Organizations
New Groups Applying for Recognition/Funding
To receive recognition/funding from Student Council, groups must be recognized by Student Council and propose a budget. To begin this process, please fill out this application.
Some things you will need to think about before this process are:
The Student Treasurers will process your application and Student Council will decide whether to provide funding.
Hosting Events
Before hosting an event, reach out to student.treasurer@icahn.mssm.edu to see if Student Council might already have some items needed for your event. For example, Student Council has some tables and other items that can be used by Student Groups.
You can reserve a room on Annenberg 12 or 13 here.  Other room reservation information can be found on Blackboard under "Student Resources".
Please contact student.treasurer@icahn.mssm.edu with any questions — this email is constantly monitored and you will get a prompt response.
Form Links