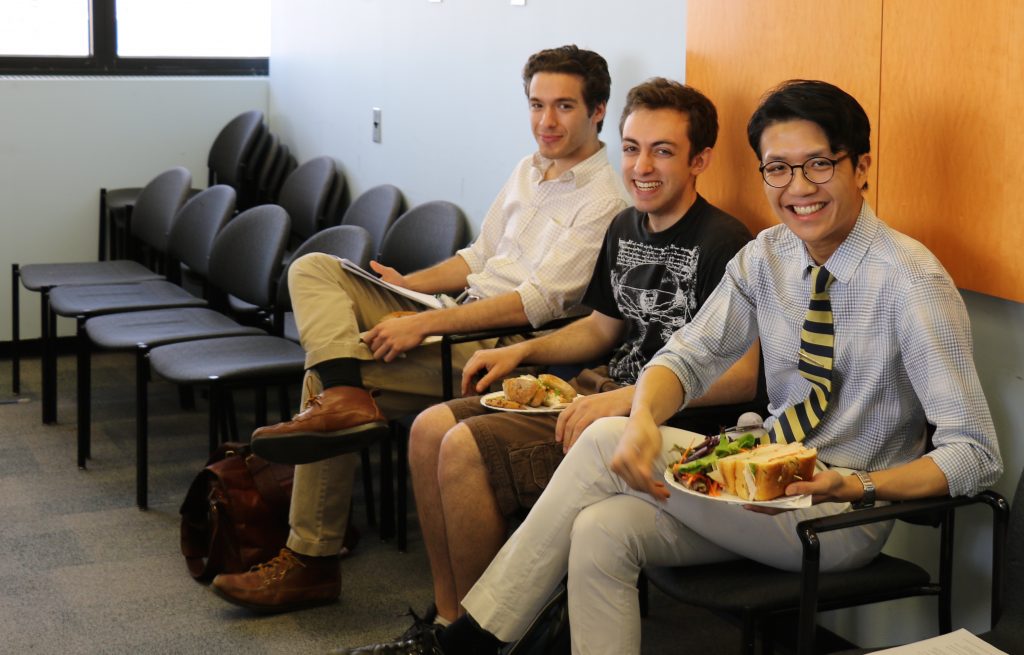 Last updated August 2021. For detailed descriptions of each position and subcommittee, please refer to the current Student Council Handbook.
Steering Committee (2022-2023)
You can contact the entire steering committee by emailing studentc@icahn.mssm.edu.
President: Jakleen Lee
Vice Presidents: Ava Adler, Anina Lund
Treasurers: Jake Herb, Varun Subramaniam
Secretaries: Abhi Mogili, Nesteene Param
URiSM Representatives: Adriana Mendez, Nasseef Quasim
PhD Rep: Ally Magee
Masters Rep: Elena Orins
MD/PhD Rep: Christian Stevens
MD Y1 Rep: To Be Filled in Fall
Class Representatives (2021-2022)
*Outdated, please bear with us!
| | | |
| --- | --- | --- |
| Name | Class | Email Address |
| Andrew Pastor | MD Y4 | andrew.pastor@icahn.mssm.edu |
| Cleo Siderides | MD Y4 | cleo.siderides@icahn.mssm.edu |
| | | |
| Marcia Lange | MD SY |  marcia.lange@icahn.mssm.edu |
| | | |
| Sidra Ibad | MD Y3 | sidra.ibad@icahn.mssm.edu |
| Fares Marayati | MD Y3 | naoumfares.marayati@icahn.mssm.edu |
| Paloma Orozco Scott | MD Y3 | paloma.orozcoscott@icahn.mssm.edu |
| James Johnson | MD Y3 | james.johnson@icahn.mssm.edu |
| Rubén Vega Pérez | MD Y3 | ruben.vegaperez@icahn.mssm.edu |
| | | |
|  Halbert Bai | MD Y1 | halbert.bai@icahn.mssm.edu |
| Brandon Yeshoua | MD Y1 | brandon.yeshoua@icahn.mssm.edu |
| Ava Adler | MD Y1 | ava.adler@icahn.mssm.edu |
| Chris DeVita | MD Y1 | christopher.devita@icahn.mssm.edu |
| | | |
| Christian Stevens | MSTP Y6 | christian.stevens@icahn.mssm.edu |
| Lauren Stalbow | MSTP Y5 | lauren.stalbow@icahn.mssm.edu |
| Jakleen Lee | MSTP Y4 | jakleen.lee@icahn.mssm.edu |
| | | |
| Camille Goldman | PhD Y3 | camille.goldman@icahn.mssm.edu |
| Emily Teichman | PhD Y3 | emily.teichman@icahn.mssm.edu |
| Carisse Lansiquot | PhD Y2 | carisse.lansiquot@icahn.mssm.edu |
| Anina Lund | PhD Y2 | anina.lund@icahn.mssm.edu |
| | | |
| Ashley Padilla | MSBS Y2 | ashley.padilla@icahn.mssm.edu |
| | | |
| Hannah Green | GC Y2 | hannah.green@icahn.mssm.edu |
| | | |
| Wendy Barillas | MPH Y2 | wendy.barillas@icahn.mssm.edu |
| | | |
| Yuanhui (Jasmine) Huang | CLR-Non-Portal (PhD) | yuanhui.huang@icahn.mssm.edu |
| | | |
| Varun Sabarwal | MHA Y1 | varun.sabarwal@icahn.mssm.edu |
| | | |
| Jailene Paredes Casado | PREP Y2 | jailene.paredes@icahn.mssm.edu |
| | | |
| Candida Damian | MD Y2 | candida.damian@icahn.mssm.edu |
| | | |
| | | |
| | | |
| | | |
| | | |
| | | |
| | | |
| | | |
Subcommittees
Academic Technology
| | | |
| --- | --- | --- |
| Fady Gorgy | MSBS Y2 | fady.gorgy@icahn.mssm.edu |
Athletics
| | | |
| --- | --- | --- |
| Nima Assad | MD Y2 | nima.assad@icahn.mssm.edu |
| Theodor Di Pauli von Treuheim | MD Y4 | theodor.dipaulivontreuheim@icahn.mssm.edu |
| | | |
| | | |
| | | |
| | | |
| --- | --- | --- |
| Paige Cloonan | MD Y2 | paige.cloonan@icahn.mssm.edu |
| Jake Herb | MSTP Y2 | jake.herb@icahn.mssm.edu |
| | | |
| | | |
| | | |
| | | |
Diversity, Equity, Inclusion, and Anti-Racism – Official Website
| | | |
| --- | --- | --- |
| Makda Getachew Zewde | MD Y3 | makdagetachew.zewde@icahn.mssm.edu |
| Francesca Silvestri | MD Y2 | francesca.silvestri@icahn.mssm.edu |
| Victoria Webb | GC Y2 | victoria.webb@icahn.mssm.edu |
| Bryanna Copeland | MHA Y2 | bryanna.copeland@icahn.mssm.edu |
| | | |
| --- | --- | --- |
| Kevin Griffee | MD Y2 | kevin.griffee@icahn.mssm.edu |
| Yonina Bykov | PhD Y2 | yonina.bykov@icahn.mssm.edu |
| | | |
| | | |
| Tori Chanenchuk | MSBS Y2 | tori.chanenchuk@icahn.mssm.edu |
| | | |
| | | |
| | | |
| | | |
| --- | --- | --- |
| | | |
| | | |
| Skylar Hess | MD Y2 | skylar.hess@icahn.mssm.edu |
| | | |
| | | |
| Gaby Altman | PhD Y2 | gabrielle.altman@icahn.mssm.edu |
| | | |
| | | |
| | | |
Housing/Security
| | | |
| --- | --- | --- |
| Roshan Nayak | MD Y4 | roshan.nayak@icahn.mssm.edu |
| | | |
| Maya Pahima | PhD Y2 | maya.pahima@icahn.mssm.edu |
| | | |
Mistreatment
| | | |
| --- | --- | --- |
| | | |
| Himanshu Sharma | MD Y3 | himanshu.sharma@icahn.mssm.edu |
| | | |
| | | |
| | | |
| | | |
| | | |
| | | |
Student Life
| | | |
| --- | --- | --- |
| | | |
| | | |
| Dillan Villavisanis | MD Y4 | dillan.villavisanis@icahn.mssm.edu |
| | | |
| | | |
| | | |
| | | |
Social
| | | |
| --- | --- | --- |
| Aliza Gross | MD Y2 | aliza.gross@icahn.mssm.edu |
| Alexandra Capellini | MD Y4 | alexandra.capellini@icahn.mssm.edu |
| Emma Reford | MD Y2 | emma.reford@icahn.mssm.edu |
| Meredith Mihalopoulos | MD Y3 | meredith.mihalopoulos@icahn.mssm.edu |
| Shoshana Rosenzweig | MD Y3 | shoshana.rosenzweig@icahn.mssm.edu |
| Chris Panebianco | PhD Y5 | chris.panebianco@icahn.mssm.edu |
| | | |
| Anisha Cooke | PhD Y2 | anisha.cooke@icahn.mssm.edu |
| | | |
| | | |
| Christos Sazeides | PhD Y2 | christos.sazeides@icahn.mssm.edu |
| | | |
| | | |
| | | |
| Karine David | MSBS Y2 | karine.david@icahn.mssm.edu |
| Eva Chebishev | PhD Y2 | eva.chebishev@icahn.mssm.edu |
| Sahiti Yarakala | MPH Y2 | sahiti.yarakala@icahn.mssm.edu |
Executive Admissions
| | | |
| --- | --- | --- |
| Evan Garden | MD Y4 | evan.garden@icahn.mssm.edu |
| Pepe Muniz Rodriguez | MD Y4 | alberto.munizrodriguez@icahn.mssm.edu |
| Leeza Hirt | MD Y4 | leeza.hirt@icahn.mssm.edu |
Executive Curriculum/AAMC
| | | |
| --- | --- | --- |
| Justin Tiao | MD Y2 | justin.tiao@icahn.mssm.edu |
| James Johnson | MD Y3 | james.johnson@icahn.mssm.edu |
| Oge Onuh | MD Y4 | ogechukwu.onuh@icahn.mssm.edu |
| Melissa Hill | MD Y4 | melissa.hill@icahn.mssm.edu |
Promotions
| | | |
| --- | --- | --- |
| Rebecca Fisher | MD Y4 | rebecca.fisher@icahn.mssm.edu |
| | | |
| | | |
| --- | --- | --- |
| Mimi Frisch | MD Y2 | miriam.frisch@icahn.mssm.edu |
| Aum Patel | 1 PhD Y2 (MSTP Y4) | aum.patel@icahn.mssm.edu |
| | | |
| | | |
Financial Aid and Services
| | | |
| --- | --- | --- |
| Mary Sun | MD3 | mary.sun@icahn.mssm.edu |
| | | |
| | | |
| | | |
| | | |
| | | |
| | | |
| | | |
| Annie Arrighi-Allisan | MD Y4 | annie.arrighi-allisan@icahn.mssm.edu |
| | | |
| | | |
| | | |
| | | |
| | | |
| Michelle Mendiolaza | PhD Y3 | michelle.mendiolaza@icahn.mssm.edu |
Working Groups
Infection Prevention (2022-2023) – Official Website
| | | |
| --- | --- | --- |
| Lily Cohen | MD Y2 | lily.cohen@icahn.mssm.edu |
| Lokesh Patil | MPH Y2 | lokesh.patil@icahn.mssm.edu |